The Malish Corporation is the leading manufacturer of OEM and aftermarket rotary (also called disc) brushes in the sanitary supply industry. With over 60 years of experience, Malish provides the quality, breadth of line, reliability, stability and value you expect when partnering with a leader.
Malish manufactures a full line of rotary brushes including pad drivers, scrubbing brushes, carpet shampoo brushes, grit brushes and specialty brushes for stone and concrete. Whether the application is stripping, general scrubbing, or hard surface polishing, Malish offers a diverse line of filament material options including Nylon Polypropylene, Wire, Bassine, Union Mix, White Tampico, or Butcher (Flat) Wire.
In addition to the rotary brushes, Malish provides quality accessories like clutch plates and pad centering devices, including our exclusive, industry-standard TRU-FIT® Universal Clutch Plate (NP-9200).
PRODUCTS
Tufted Pad Drivers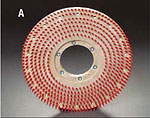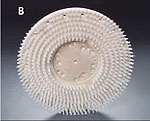 PAD-LOK™ MAL-LOK™ Style I

Risers
Plastic risers are available in thicknesses of either 1-1/4" (standard) or 1-1/2". Marine grade plywood risers are available for use on wood blocks or when non-standard center hole dimensions are required.
Polymeric Face Pad Drivers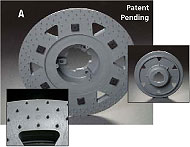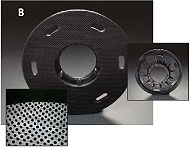 TRI-LOK™ MIGHTY-LOK®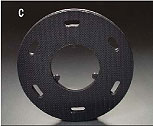 SURE-LOK® HIGH SPEED RISER
 
Uni-Block™ Showerfeed System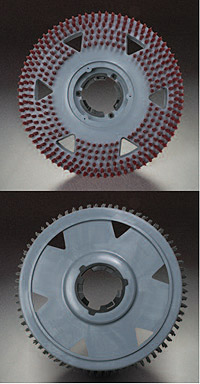 All-in-one design for convenience
and economy! Uni-Block™ Showerfeed System combines an injection molded polypropylene block with the patented NP-9200 TRU-FIT® Universal Clutch Plate and either a pad driver, grit brush or poly brush. The Uni-Block™ line includes Uni-Block™ Tufted Pad Driver, Uni-Block™ Grit brush (available in two different grits) or Uni-Block™ Poly brush, depending on the application. Every product in the Uni-Block™ Showerfeed System is manufactured to exacting performance specifications for durability and peak performance.
Designed to fit industry-standard 17" and 20" floor machines
Available with 16" or 19" Pad Drivers
Choose from 15" or 18" Poly and Grit brushes
Fiberglass-reinforced nylon NP-9200 TRU-FIT® Universal Clutch Plate built into the block for added strength
General Purpose Scrubbing Brushes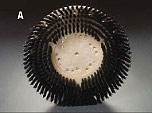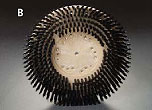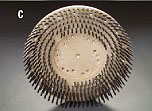 TUFF-BLOCK® Showerfeed
All Malish showerfeed brushes feature our water and chemical-resistant TUFF-BLOCK® Showerfeed System for improved performance and long lasting life.
TUFF-BLOCK® Showerfeed
For cleaning hard surfaces. Nylon and polypropylene scrubbing brushes feature .028"
diameter fill material throughout the block. Nylon is more flexible and will last the
longest, while polypropylene is an economical alternative. Steel Wire (.014" diameter)
is the most aggressive of the series, for use on unfinished concrete surfaces.
Natural Fiber Scrubbing Brushes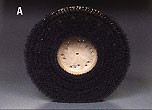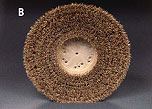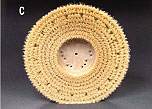 Bassine Union Mix White Tampico
 
Grit Rotary Brushes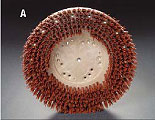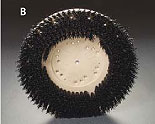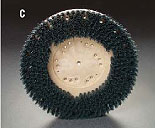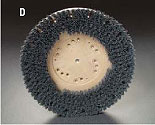 MAL-GRIT XTRA™ MAL-GRIT™ CLEAN-GRIT™ MAL-GRIT LITE™
MAL-GRIT™brushes offer solutions to a wide range of cleaning situations. Silicone carbide impregnated nylon bristles are self-replenishing as brush wears, offering unmatched value that outlasts floor pads over 100 to 1! That translates directly into time and cost savings. Featuring our water and chemical resistant TUFF-BLOCK® for maximum life expectancy. All Grit Brushes must be run in a wet environment. Trim Length: 1-1/2".
 
Brush/Pad Combination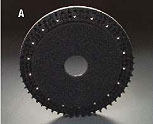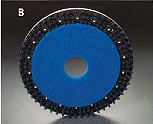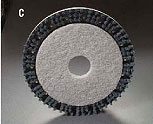 POWER-PAD™ / MAL-GRIT™
POWER-PAD™ / CLEAN-GRIT™
POWER-PAD™ / MAL-GRIT LITE™
The Malish POWER-PAD® is a unique combination of a brush to handle all the "lows" and a pad driver to clean all the "highs." This design creates a multi-level scrubbing action that produces results superior to standard rotary brushes and pad drivers. Reduces the need for multiple passes during floor stripping or scrubbing. Ideal for use on unsealed or sealed concrete, terrazzo, vinyl tile, ceramic/quarry tile and linoleum.
SPINSAFE™ Carpet Brush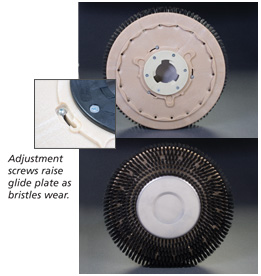 The new Malish SpinSafe™ carpet brush utilizes a smooth stainless steel adjustable guide plate to allow the brush to easily glide over the carpet. This protects the integrity of the carpet, reduces drag, and increases efficiency.
Adjustable stainless steel glide plate
Reduces operator fatigue
Increases productivity
Efficient and cost-effective
No break-in process required
Designed to fit 17" or 20" floor machines
Carpet Shampoo Brushes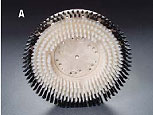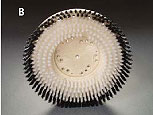 Nylon Polypropylene
On brushes 14" in diameter and larger, the two outer rows are heavier to scrub the carpet and flex the pile while the softer inner rows "massage" the dirt from the carpet for a deeper cleaning action.
Carpet Bonnet Systems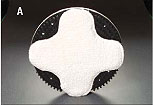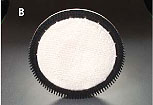 BONNET-LOK™ BONNET-LOK™ II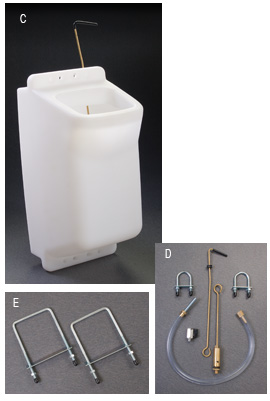 THE MALISH SOLUTION TANK
Sanding Drivers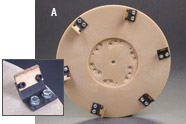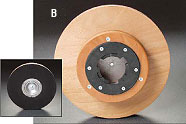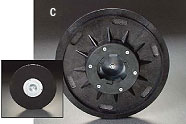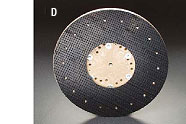 DIAMABRUSH™ Hardwood Prep Tool
Heavy Duty Sandpaper Driver
Economy Sandpaper Driver
ORBO-LOK™
Stone & Concrete Maintenance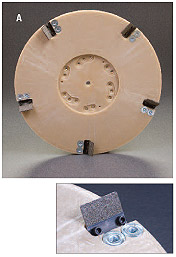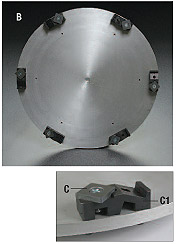 DIAMABRUSH™ Mastic Removal Tool
SP-17 Surface Prep Tool w/Dual Position Blade Holders
Replacement Carbide Cutters and
Dual PositionBladeHolders
Malish offers an innovative line of superior quality, multi-purpose stone and concrete products.
 
Stone & Concrete Maintenance Continued






Aluminum Back Diamond Disc / Pad Driver
TUFF-BLOCK® Diamond Disc / Pad Driver
Flat Butcher Wire
Clutch Plates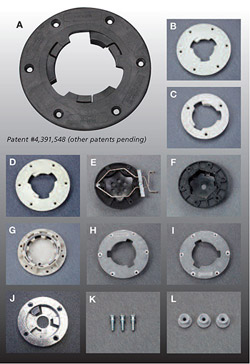 TRU-FIT® Universal Clutch Plate
(NP-9200) Patent #4,391,548
Designed to flex vertically and compress horizontally to reduce machine wobble and operator fatigue.
Which Clutch Plate Is Required?
Malish can supply clutch plates for most machines on the market. If you have an original clutch plate, we will ask you for the center hole diameter of your existing brush. Measure the inside diameter from your existing brush or pad holder to obtain this information.
Pad Centering Devices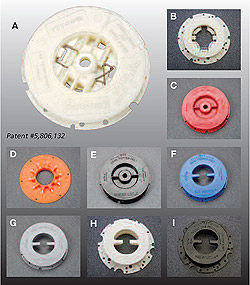 CENTER-LOK® 3 Patent #5,806,132
Can be used on left or right rotation machines.
Recommended for use on high speed machines.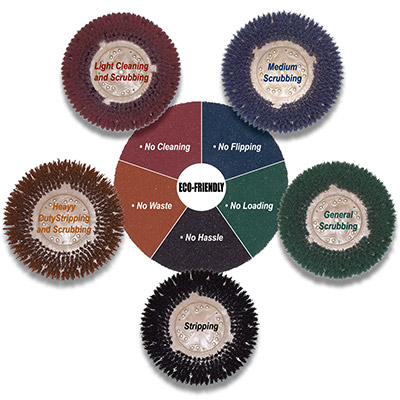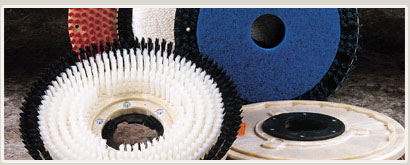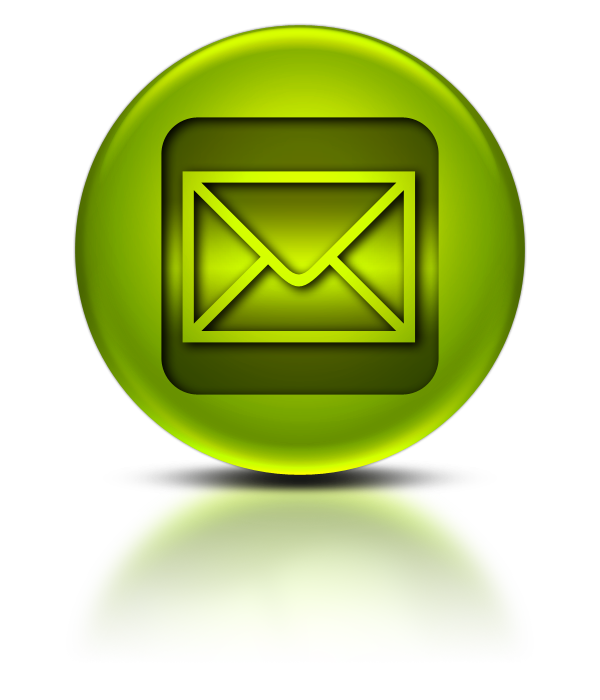 If you need additional information