Ask a professional to name the number one brand of squeegee and
youfll get the same answer today as you would have 75 years ago-
Ettore, hands down. In a world where everyone talks quality but few deliver, Ettore offers nothing less than unfailingly superior quality to professionals in every part of the industry. See for yourself why Ettore Products is the number one choice of window cleaning professionals.
Why more professionals choose Ettore
Often imitated, never duplicated,
Ettore Steccone's original squeegee
design has remained virtually unchanged since its
inception in 1936. His secret was, and is, in the rubber.
The formulation of Ettore rubber is carefully guarded
because this is the essential heart of the system—
A razor sharp square edge, which leaves
glass perfectly clean and streak free.
Guaranteed.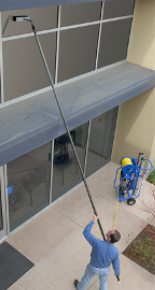 Ettore designed the Aquaclean systems to specifically reduce the maintenance and cost in manufacturing pure water. With a series of pretreatment filters (Stages 1, 2 and 3), and the addition of the Reverse Osmosis (Stage 4) and De-Ionization (Stage 5), filter replacement is considerably less than other systems that include RO or DI only or a combination of the two.
Stage 1. Tap water flows into the first Polypropylene filter which filters suspended solids to 5 microns.
Stage 2. 4 1/2" x 10" Granulated Activated Carbon/KDF prefilter begins the anti-scaling process and removes chlorine in the water supply.
Stage 3. 3/4" diameter 5-10 GPM Anti-Scaling Device suspends calcium, causing scale not to stick to Reverse Osmosis Unit.
Stage 4. Reverse Osmosis Membrane separates water and removes 92% to 95% of total dissolved solids.
Stage 5. The De-Ionization Cartridge removes the remaining total dissolved solids, producing water that is 99.99% pure.

 


Featured!
---
Pro+

™

Scraper
---
Squeegee Off Tablets
Earth friendly formula



---
PRODUCTS
Window Cleaning Display
 
Complete Cleaning Display
Dimensions: 89H x 45W x 24D
 
Increase Sales!
Generate impulse sales with a full assortment of the best selling Ettore window cleaning tools
Easy to read product locator sheet provides information to help your customer quickly find the right tool for the job.
Strong Ettore branding Improve Product Presentation
Fully assembled tools allow for quick and easy product selection
Individually labeled compartments identify refills and replacement items for easy customer selection
Built in rack displays poles neatly
Quick and easy set up
Free display stand included with qualifying order.